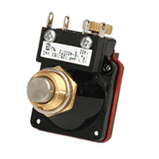 Check out the Model 90 Series Miniature Pneumatic Timer doing its job without being noticed. Our pneumatic timer is compact in size to fit in the most compact places where delay timers are needed. In this video we show some of the many places the Model 90 is used as well as a demo using a simple Lego set.
In the demo we have created, the Model 90 opens the door with the press of the button and uses a delay to close the door. The Model 90 is able to have a delay from 2 seconds all the way up to 60 seconds. This is a great feature to have when applied in security and handicap doors, ensuring doors open and close when needed.
The switches are used in "Request to Exit" door push buttons. A large amount of them are going into hospitals and are required to be non-electrical operation (pneumatic) to meet the fire codes. This is an example of where a very simple solution can be implemented into a very critical and often complex system that is tightly regulated by governing bodies to ensure the safety of personnel.
Model 90 timers are installed in an access door application where the timer provides for a controlled amount of time in which the door must be re-closed after initial opening. If the door is not re-closed within the timing period setting, or if a required code or passkey is not provided to a peripheral device, the timed out condition can trigger an alarm.
The pneumatic timers are ideally suited for applications that require a simple, adjustable time delay circuit. They may be used in "dry" circuits (no voltage present) or they may be used in circuits that have up to 120/240 VAC present and will control resistive loads up to 10 amperes.
Thanks for reading our blog. Stay tuned for our next featured product!