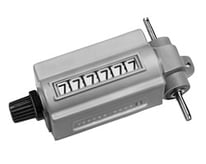 When it comes to measurement, you need to be precise and accurate. Veeder-Root allows for just that. We would like to introduce to you the 1953 Series Gear Driven Visicounter. This mechanical counter is perfect for precision linear measurement of all types of moving materials, including textiles, sheet, roll, paper, rope, cable products and so many more.
The 1953 Series is designed and manufactured to provide years of trouble-free service in the most rigorous industrial applications. All models are right handed drive, with availability in clock-wise and counterclockwise rotation for addition and opposite rotation to subtract. The 1953 Series is equipped with various wheels that you can work to better fit your application.
Our measuring wheels are diecast and machined to the highest standards of quality. Circumferences of 1 foot and 1/3 meter are standard and are accurate to ±0.1% of stated size. Two bore sizes are provided, which fit most mechanical counters with 5/16" (6.4mm) or 1/4" (8.0mm) diameter shafts. Recessed set-screws secure the wheel firmly to the shaft.
Choose from 1/2" (12.7mm) or 1" (25.4mm) width - rubber, smooth aluminum or knurled aluminum contact surfaces, for the most reliable contact with the measured material. A special purpose tapered grooved wheel, 1/2" (12.7mm) width only, is ideal for accurate measurement of materials such as thread, wire, rope, braid and cable, from the smallest diameter to more than 1/4" (6.4mm) diameter. When used with counters with 1:1 or 1:10 drive ratios, these wheels will produce highly accurate resolutions of 1 foot or 1/10 foot. With geared drive counters, resolution of yards or 1/8 yard is possible. 1/3 meter wheels are typically used with 3:1 drive ratio counters, for resolution in meters.
Download more information about the Veeder-Root 1953 Series Counter today.