Infrared sensors used in proximity sensors and position sensors are an ideal choice for detection of products in high temperature environments. Trigger points of up to or over 800⁰C are common. Infrared sensors are used in the proximity of high heat processes, and work reliably because the infrared energy emitted from the elevated temperatures encountered is strategically employed in the sensing process. Infrared sensing technology is ideally suited for continuous casting processes, hot media mold filling and level sensing, high and low limit level controls, and measure/cutoff of hot cast or rolled materials. Ideally, infrared sensors should be specified based on several important criteria.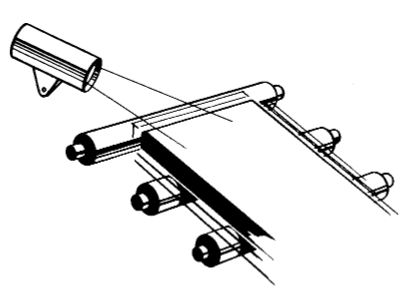 The sensing range is a critical element in the selection process, and is generally dictated by the size, shape, speed, proximity, and of course the temperature of the item, media, or process to be detected. The range is determined by the viewing angle of the sensing aperture as well as the actual sensing distance.Additionally, the proximity of the sensing head to the detected material must be considered, for protection from exposure to higher than compatible ambient temperatures.
Infrared sensors are available as self-contained assemblies, comprised of the sensing lens/aperture, the control module, and special high temperature wiring. Self-contained infrared sensorsare available with special jackets or enclosures that allow connection of compressed air or cooling water to ensure longest life in severe environments.
Certain applications where infrared sensors are in close proximity to elevated temperatures would indicate that a remote sensing lens assembly be used with a control module installed at a safe location from the excessive heat. Infrared sensors for applications such as this are available as a dual component system, comprised of an infrared sensing head and a separate control module, connected together with a fiber optic cable. This arrangement keeps the very rugged infrared sensing head close to the working environment for maximum sensing ability and the control module a safe distance away.
The type of output provided by the infrared sensor must be considered as well, as they are generally used as an input to a larger process control system.Infrared sensors are available to operate at various AC and DC voltage ranges, and provide corresponding voltage or current outputs.
The unique capabilities of infrared sensors make them an essential component of complex processes often found in steel mills, bottling plants, glass industries, die casting, spin casting, and other industries that use high temperature processes from raw materials to finished goods.
For assistance in selecting the sensor needed for you application. contact us. Learn more about infrared sensors in our NAMCO Hot Metal Detectors.