The right equipment can make all the difference in getting the job done in this tough environment. Joslyn Clark, which has more than 50 years of experience in the motor control business, has partnered with mining companies and mining original equipment manufacturers around the world to find solutions for their most pressing needs.
Often, Joslyn Clark vacuum contactors provide the answer these companies are seeking. Joslyn Clark vacuum contactors are recognized by the leading mine machine builders for applications on long-wall mining equipment, continuous miners, conveyors, power centers and other related equipment. These vacuum contactors are used by companies worldwide in not just coal mines, but in mining operations for precious metals and other materials.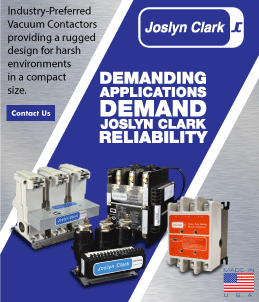 It's no secret that mining companies operate in one of the harshest, most unforgiving environments on Earth. Conditions are humid and dirty, space is tight, production quotas must be met and men and equipment are put to the test every hour of every shift. If that's not enough to worry about, the atmosphere can be explosive.
The Joslyn Clark vacuum contactor takes up much less space than an air break contactor. That compact size is a definite advantage in the tight confines of a mine.
Joslyn Clark vacuum contactors are fully phase insulated, offering greater safety benefits than traditional air break systems.
Joslyn Clark vacuum contactors are quieter than air break contacts, and they're also versatile, as they may be mounted in any plane.
All vacuum contactors come backed by Joslyn Clark's reputation for durability and reliability.
Mining companies and mining equipment manufacturers around the world have discovered the benefits of using Joslyn Clark vacuum contactors. One large mining machinery OEM located in the Appalachian Mountains began installing Joslyn Clark vacuum contactors after their customers repeatedly inquired about them, especially noting their compact dimensions.
Another mining OEM, in one of the Rocky Mountain states, shifted to Joslyn Clark vacuum contactors after its customers mentioned the benefits of lower maintenance costs. As the manufacturer explained to its customers, Joslyn Clark's vacuum contactors cost slightly more upfront, but quickly pay for themselves in the aforementioned benefits (reduced maintenance, less machine downtime, not to mention the intangible benefits, such as greater safety).
In recent years, more and more mining equipment manufacturers have begun using Joslyn Clark vacuum contactors in their OEM designs, specifically at the request of their mining customers, who have heard about or experienced firsthand the many benefits of vacuum contactors. For mining companies, the Joslyn Clark vacuum contactor's compact design provides great flexibility for retrofitting to all existing air break contactors, thus enabling an existing application to continue with maintenance cost and downtime eliminated.
Related Resources include:
To learn more, please down load our comprehensive vacuum contactor brochure.